Market was a feature added by Dr_Derek around years 004/005 and destroyed by Dr_Derek, NeoLeo123, DominikWSP, TBLightningRockz, CaptDigger and Danielx253 in year 007 (December 28, 2015).
Purpose
Market was added as a replacement to the /sell command which included too many glitches. It was always meant to be temporary and was soon after its implementation placed along with the newly added /market command. The /market command and the Market were utilisable until 007 (December 28, 2015). A few days before, Dr_Derek announced the Market is going to disappear in year 008 (January 1, 2016), but it was destroyed prior to that date after DominikWSP said "i'm going to buy something in the market that will be soon brutally assassinated by derek". Then it was destroyed by the players mentioned above with pickaxes and lava. Players were allowed to keep the precious resources they mined during the demolition. Market will be replaced with /market command and the place where the building was will be replaced with a Stock Market.
Gallery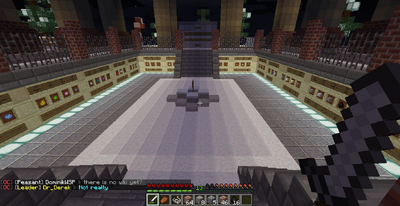 Ad blocker interference detected!
Wikia is a free-to-use site that makes money from advertising. We have a modified experience for viewers using ad blockers

Wikia is not accessible if you've made further modifications. Remove the custom ad blocker rule(s) and the page will load as expected.